Customizing wigs is one of the most enjoyable methods to benefit from wigs without causing damage to your actual hair. human hair lace wigs are particularly popular for customisation since they allow for worry-free bleaching, coloring, and manipulation of the wig hair using heat and styling tools.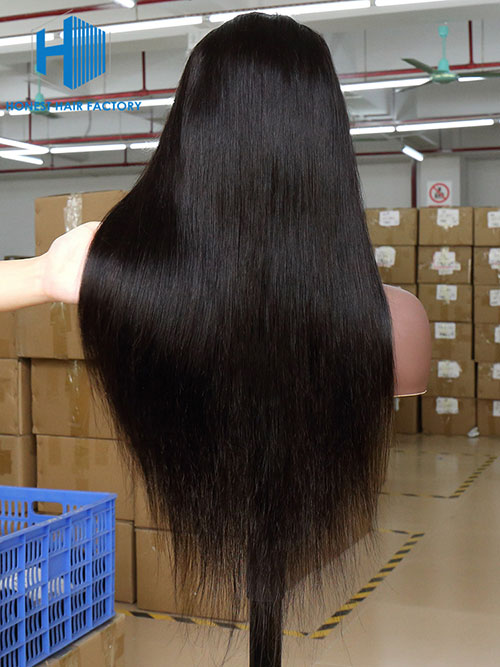 1.Equipment That You Will Require
Comb; Pins; Alligator Clips; Brush; Mixing Bowl; Shower Cap; Vinyl Gloves; Tweezers; Scissors; Razors; Bleach; Heat protection; Wand Curler; Apron; Shampoo; Conditioner

2.How To Customize Your Lace Front Wig With Real Hair
Step 1: To Position The Wig
Place your lace wig on your mannequin head and use your T-Pins to keep it in place.
Step 2: Pluck Lace
Plucking is the practice of plucking off superfluous hairs around the frontal area with a tweezer to make it less bulky. Part the hair on your lace front wig in two sections and begin plucking the hairline toward you with your favorite tweezers to achieve a more natural look.
Step 3: Apply the Bleach Solution
You will need to bleach the knots unless you got a pre-bleached lace front. Due to the fact that each hair strand is hand-tied into the lace base, visible knots at the end of each strand appear as small black dots beside your lace. Bleaching your frontal hairline conceals the black knots and gives your hairline a more natural appearance.
Take your bleach, developer, mixing bowl, and mixing brush and whisk the mixture until it achieves a pasty consistency that is not too loose (so it does not spill onto the hair).
Step 4: Bleach Knots On The Lace
Invert your lace wig and secure it to your foam head. Begin by bleaching the knots along the hairline. Place the shower cap on top and wait 15 minutes for the bleach to brighten. Then, using a neutralizing shampoo, remove any remaining bleach.
Step 5: Cut The Lace
Lace should be cut around the hairline and around the ears.
Step 6: Protect The Wig Hair From Heat Damage
Utilize your t-pins to secure your wig on the mannequin head. Distribute a dime-sized amount of heat protection throughout the hair.
Step 7: Curl Your Hair As Desired
Comb the hair into distinct parts and clip the extra hair out of the way with your alligator clips. Then, using your wand curler, begin curling various parts of hair to your preference.
Step 8: Spray The Hair To Seal It
Seal the hair with an alcohol-free hair spray of your choice.
Step 9: Design Your Own Segment
Not every lace wig is created equal. Some are pre-made with a central section, a side part, many sections, or no parting at all (also known as a "free part"). With the free part lace front wig in particular (honesthairfactory lace wigs allow you to freely part your hair), you can choose and construct your part. This can be done either before or after creating the whole wig. Simply experiment with the parting to create a playful hairdo or keep it down for a more refined and trendy look.
Step 10:Create Natural-Looking Edges
The unnatural hairline is a common criticism among new lace front wig wearers. Nobody's hairline is completely full from ear to ear, and this is the first sign that you're wearing a wig. Make necessary adjustments to your lace front wig. Bear in mind the newborn hairs! Separate a short segment of hair from the hairline that you wish to use as baby hairs for this phase.
Customizing a wig can be a breeze and a lot of fun! When you're ready to experiment with a new style, start with the honesthairfactory lace front wigs wholesale. To assist you in achieving the extraordinary appearance you seek for your big day, the honesthairfactory wig offers a diverse selection of high-quality, affordable wigs in a number of lengths, hues, and styles.